Denmark's next Classic 2022
Challenge no. 1
In the first episode of Denmark's next Classic, the participants are given the task of designing a sofa that can be transformed into a bed. Another criterion from the judges is that the sofas have to fit in a small living space.
The idea
Eva and Anne knew they had very little time to make their decisions because it takes more than two weeks to build a sofa. So having only a few days to design a completely new piece of furniture, they start by putting up further criteria for the product. They wanted the sofa to be a beautiful piece of furniture that one would want to have in the living room, because they have a prejudice about sleeping couches often being worse sofas in both comfort and aesthetics because of the extra functionality. Just as important was it to create a transformation that would be simple and intuitive. Furthermore, it is generally essential to the two young designers that the different elements of their products can be detached easily so that textiles may be washed and warn out pieces can be repaired or replaced. Finally, Eva and Anne wanted to make a comfortable bed with standard measurements.
The result
According to the judges, Eva and Anne succeeded very much with their design. They made an elegant and comfy sofa, with an easy and intuitive transformation into a good bed. They made a second place in the first competition.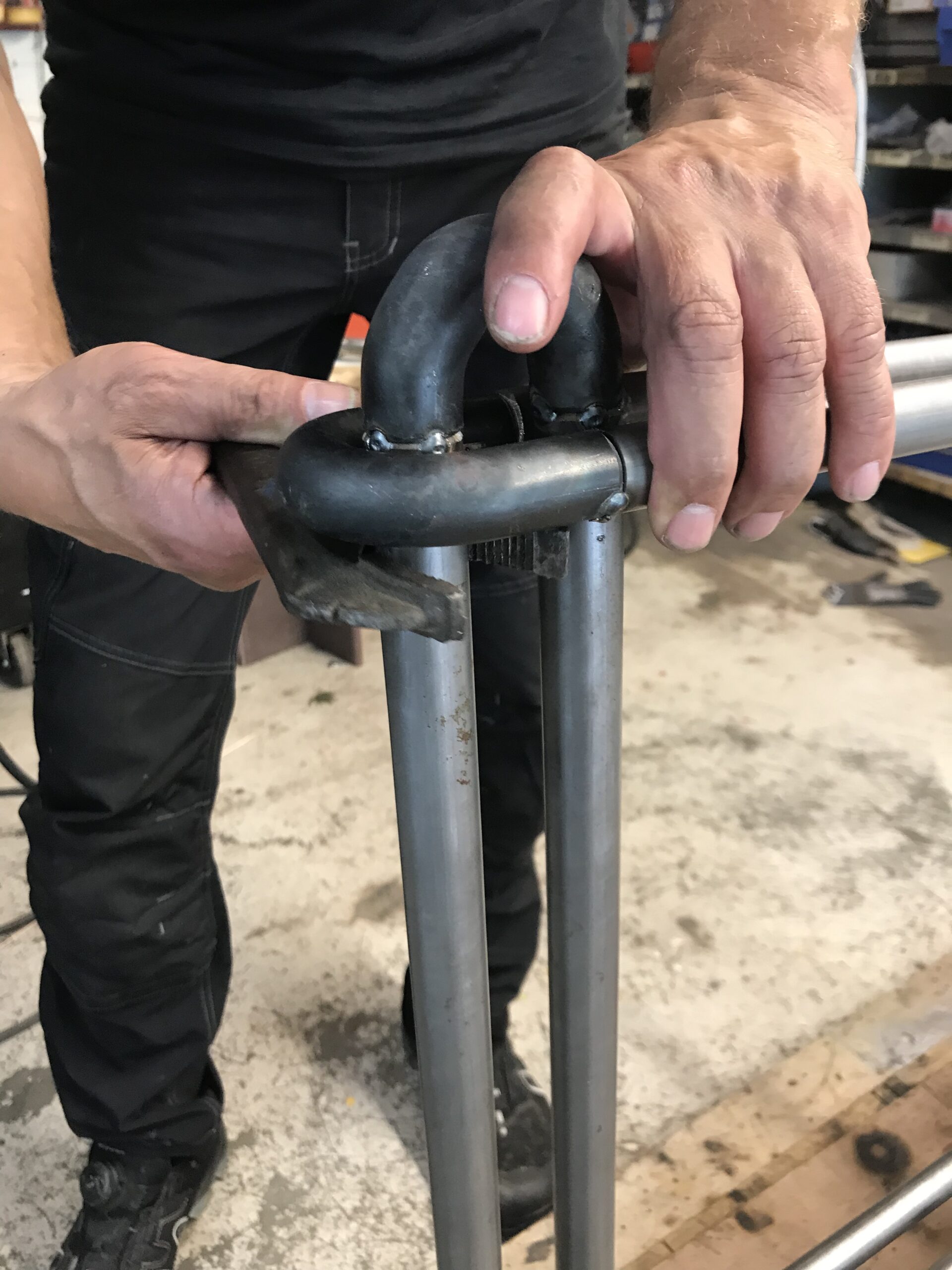 Climate footprint
Eva and Anne generally have a natural approach to sustainability because they focus on quality materials and they strive to make durable designs. Furthermore, they design for disassembly, because it only makes sense to them that a product can be maintained and repaired as easy as possible.
Therefore, when designing this sofa, they have made it easy to take off the covers so they can be washed or replaced. Additionally, they always strive to create "transparent" products that are easy to see through and to understand their composition and what they consist of. This kind of design naturally results in products where the different components are easily disassembled, which makes it possible to replace parts of the products and also to sort and recycle the different materials.
Let's look at the result of Eva and Annes design from a climate perspective. Here, we have described the main materials.
Frame and bottom
Eva and Anne chose a metal frame made from steel tubes because the slim profiles required a stronger material than wood. Metal has quite a high climate footprint compared to wood, because of the energy consuming processes: extraction, transportation, and refining into a workable material. On the other hand, there are established effective recycling processes for most metal types.
We have estimated that thinner tubes could be used for the finished sofa compared to the prototype. This reduces the possible impact of the frame from 90 to 45 kilos of CO2eq.
The bottom is made of plywood and with the specific dimensions, it will have an approximate climate impact of 65 kilos of CO2eq.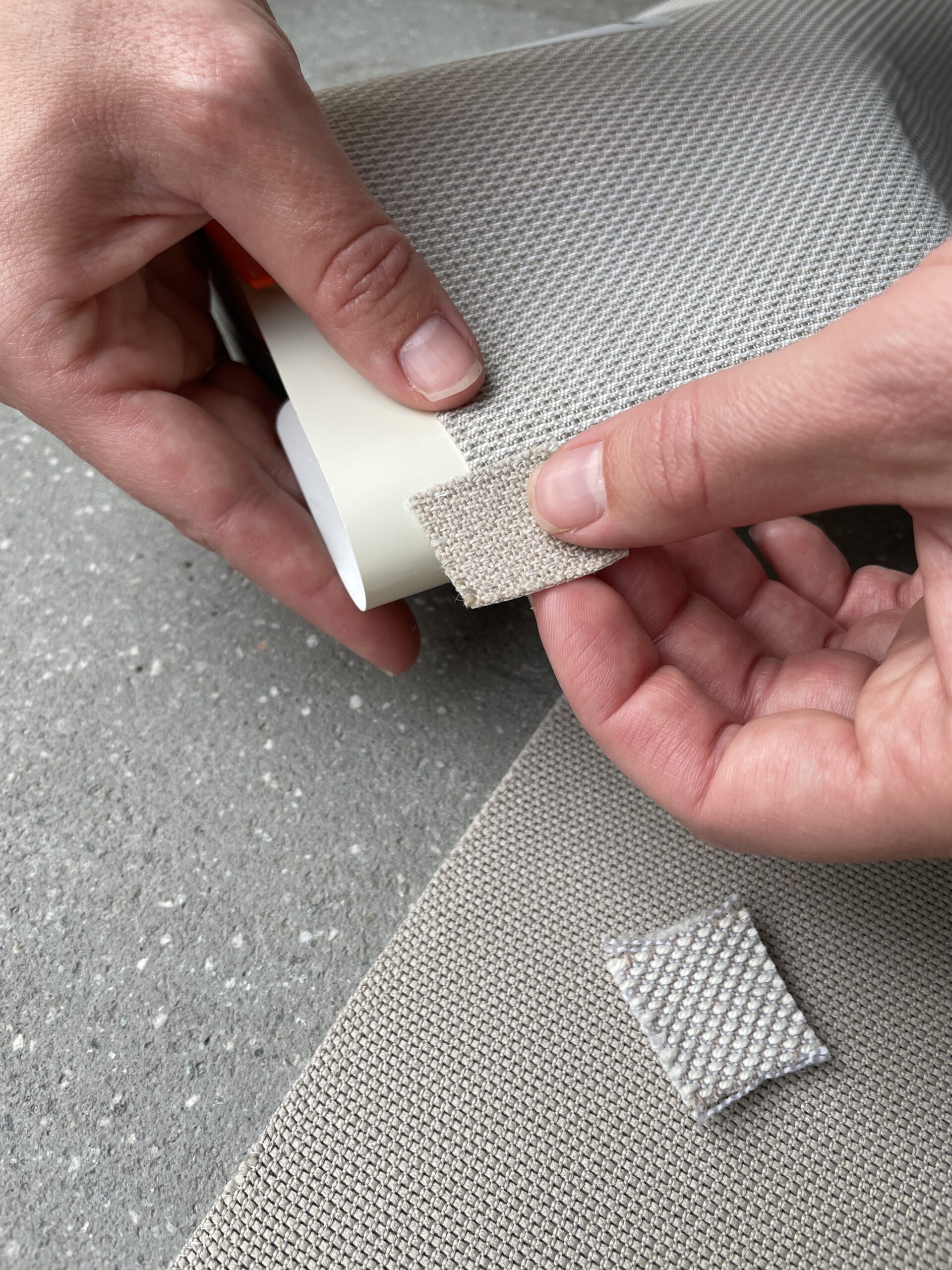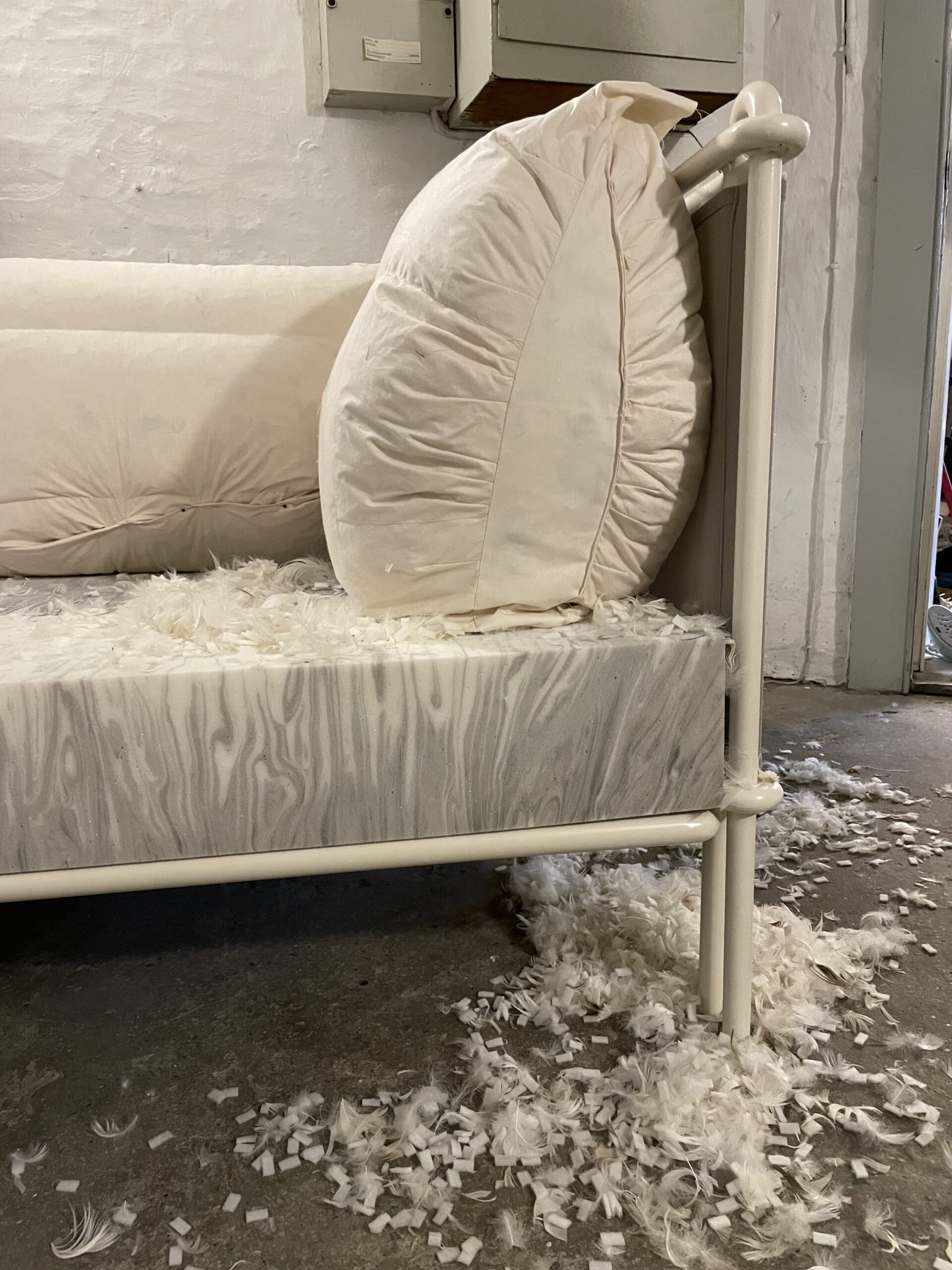 Mattress and cushions
The mattress is a Pantera foam material which is a foam type developed for hospital beds. It is breathable and pressure distributing. It consists of high resilient PU foam and in the size used for the prototype, it has a climate footprint of approximately 115 kilos of CO2eq.
The cushion filling is duck feathers and recycled foam particles. The mix is supposed to give volume so that the cushions would hang heavy and be moldable and at the same time make them fluffy and soft and able to change position easily. The interior covers are made with  closed compartments to secure that the filling stays evenly distributed. We have estimated that alle four cushions have a climate impact of 48 kilos of CO2eq.
Textile
The textile for both the mattress and the cushions consists of 90% new wool and 10% polyamide. In total, we have estimated a climate footprint of 290 kilos of CO2eq, hence contributing with more about half of the total emission of the sofa. The high impact is due to the sheep emitting methane during their life time. Like cattle, they develop methane as a part of their digestion process and this greenhouse gas is 25 times more impactful than CO2.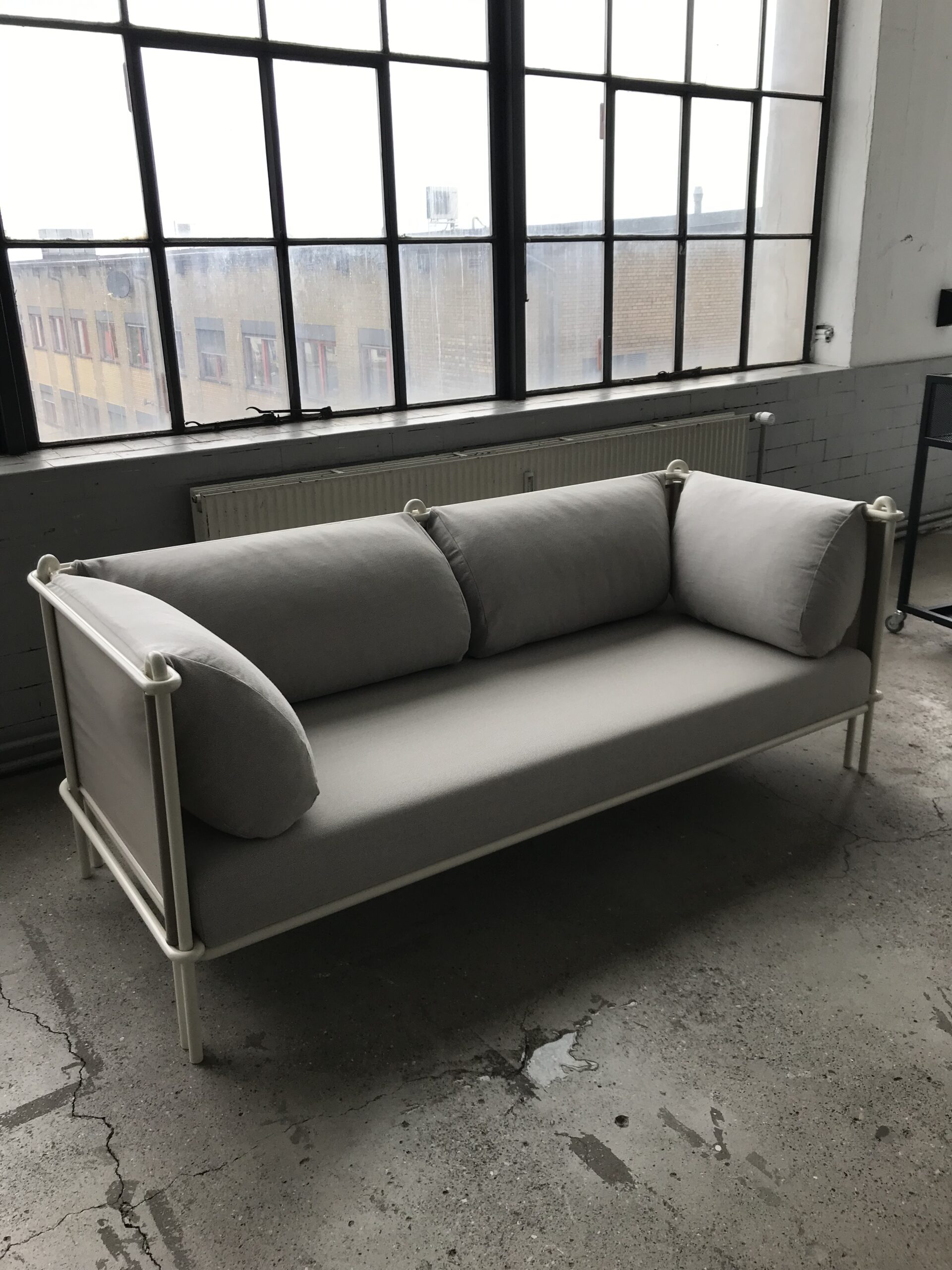 Packaging and transport
In order to make a full life cycle screening, we have also estimated the packaging needed to box the sofa and how much transporting it a 1000 kilometers would lead to. This amounts to approximately 35 kilos of CO2eq.
Total
In total, we have estimated that the sofa has a climate footprint of approximately 580 kilos of CO2eq, which is quite normal for a large sofa like this.
The future of the sofa
Anne and Eva wish to put the sofa in production, and they are currently looking for the right manufacturer to produce it. They are going to continue their work to advance the it, so they want to spend some time investigating the opportunities to use more responsible and climate optimized materials and they are going to redesign the frame so that it can be disassembled and flat packed.
In our screening tool, they can see that it is possible to choose a textile material with a much lower emission. And it is by changing the textile that they can obtain the largest reduction in CO2eq. All in all, a reduction of about 50% should be possible by replacing and minimizing materials.
Results
These two graphics illustrate how the CO2eq emissions are distributed between the included elements of the sofa's life cycle and what the impact corresponds to in everyday activities.

Bly Studio is founded by two young female designers, Eva Fly and Anne Brandhøj. With a common background as furniture designers from The Royal Academy of Design in Copenhagen, Eva and Anne work with furniture design with a strong sense of functionality and they always strive to create memorable visual expressions. The studio focuses on designing high quality furniture for both the contract and retail market.