Bly Studio: The home office
Denmark's next Classic 2022
Challenge no. 5
In the fifth episode of Denmark's next Classic, the judges ask the designers to create a home office station. The task relates to the last couple of years where thousands of people have been forced to work from home, which have been a challenge for many and led to various infirmities and aches because most of us don't have a decent workstation at home. Actually, employers are required to provide this for their employees but not everyone has room for it. So the job was to design a work station that would fit in a small living room. It had to be transformable so that it in some way could be put aside when not in use.
The idea
Eva and Anne saw themselves as the the target group for such a piece of furniture, since they are among those who have worked from home. They both experienced the challenges of creating a comfortable work station with their laptops, which led to their own primary criterion for this design: good ergonomics.
They wanted the solution to provide different height levels for screen, mouse and keyboard. They also wanted it to be able to fold away in an elegant way without "leaving the room". Still it should be clear when you are at work, and when you are off, because another challenge with working from home is the feeling of being at work all the time. It was also important to Eva and Anne that the tabletop was positioned in a way so that you do not look into the wall but instead have space and view in front of you. Finally they wanted to use warm and comfortable materials since the product is meant for homes.
All these demands made the task difficult for the young design duo and the product had all kinds of shapes before they went with this one.
The construction
They decided on a wall mounted work space that is placed in a height that fits the user. It looks like a closet and can be opened and folded out into a complete work space. There is storage room in the closet with adjustable shelves and a small closed room for cables. Also the shelf for the computer screen or laptop is adjustable so that you can both sit and stand at the work station.
They have attempted to soften the expression of the office space by providing it with harmonious details. The doors have been given an organic shape where the wood bends upwards functioning as both handles and strengthening to the table top.
The result
Anne and Eva succeeded in creating a compact, transformable work station, that can be adjusted to fit the user in an ergonomic way. It is elegant and warm, and you don't feel cramped when you use it. The judges told them that they really had taken the work space very seriously.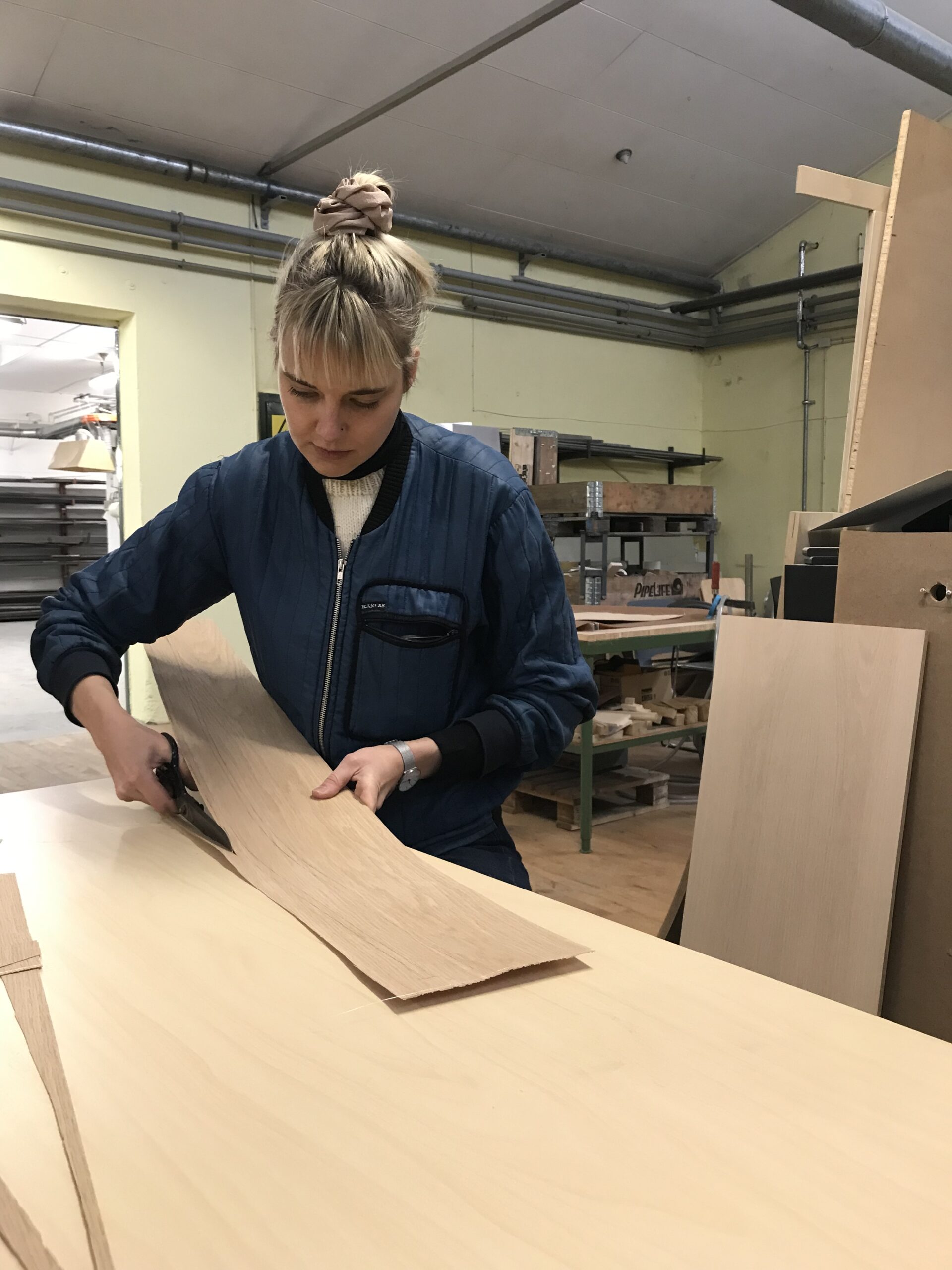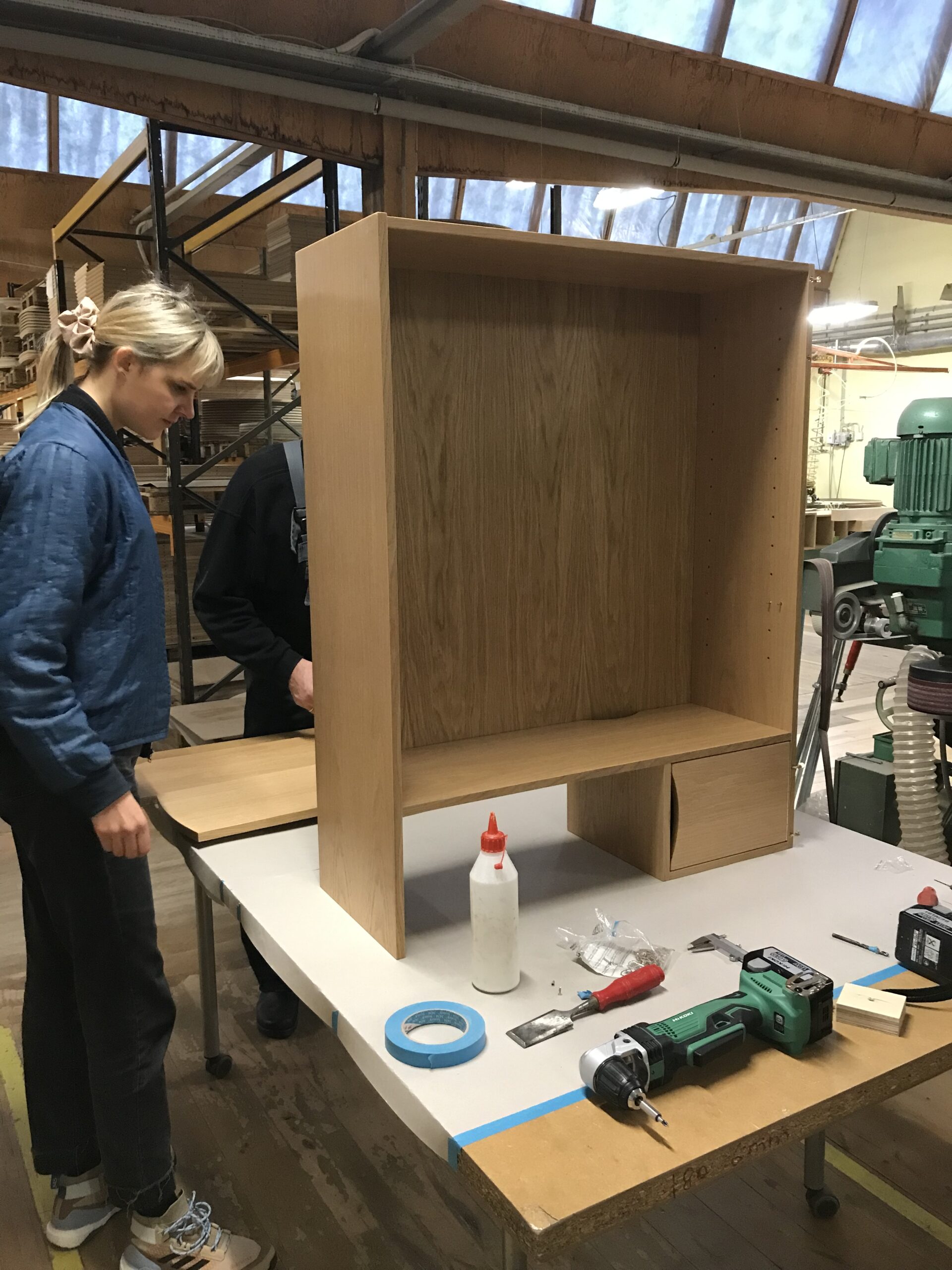 Climate footprint
The product is made in MDF board with a veneer surface in oak and solid oak edges. Eva and Anne wanted to make it in sustainable Danish beech, but could not get the materials in time. Therefore, we have screened both alternatives to see what difference it makes in the climate impact. But since the main part of the footprint comes from the MDF boards, we have also exchanged them with laminated board. Furthermore, we have added oil as surface treatment instead of lacquer.
The MDF version with lacquer, veneer surface and oak edges has an approximate footprint of 114 kilos of CO2eq and maintenance will amount to about 3 kilos of CO2eq.
If the workstation was to be produced in laminated board instead, the veneer (and glue) would become unnecessary and if treating it with oil in stead of lacquer it would have an approximate footprint of 66 kilos of CO2eq. On the other hand, maintenance would rise to an estimated 27 kilos of CO2eq since oil treated furniture need continuous after treatment.
Screws, bolts and hinges amount to approximately 3 kilos of CO2eq.
Eva and Anne have specifically designed the work station to be able to fit on a regular EU pallet since their design is not made to be flat packed this time. Transport and packaging constitute 9 kilos of CO2eq.
The designers have taken into account the rules on home office furniture, but this product doesn't fit into the standards making it difficult to figure out whether it meets all requirements. However, it might be a good alternative to the big expensive electric tables for employees with less space at home – employers, check it out.
The future of the home office
Eva and Anne wish to have their work station put into production as well, and they think Magnus Olesen, that has made the prototype, is a good match. They produce all their furniture in Denmark and has a serious focus on sustainability, which suits the vision of Bly Studio.
Eva and Anne want to create an ergonomics manual that should come with the work station so that the user are thoroughly guided in how to adjust the product the right way obtaining the best ergonomic position.
Results
These graphics illustrate how the CO2eq emissions are distributed between the included elements of the workstation in the two versions and what the impact corresponds to in everyday activities. We have estimated the total impact of the original design to 130 kilos of CO2eq. With our suggestions for more responsible material selection the alternative version has an estimated footprint of 95 kilos of CO2eq.
Bly Studio is founded by two young female designers, Eva Fly and Anne Brandhøj. With a common background as furniture designers from The Royal Academy of Design in Copenhagen, Eva and Anne work with furniture design with a strong sense of functionality and they always strive to create memorable visual expressions. The studio focuses on designing high quality furniture for both the contract and retail market.