Bly Studio: The easy chair
Denmark's next Classic 2022
Challenge no. 6 and finally!
In the sixth and final episode of this season of Denmark's Next Classic, the participants are designing an armchair. The criteria are that it needs to be extremely comfortable and at the same time be a forward-looking piece of furniture without any origins towards the past. Oh and no wood allowed.
The idea
As with all the other designs, Eva and Anne start by figuring out what their own main visions are for this design. They want it to be forward-looking by being a product that shows consideration for the future in regards to its climate impact. This was a difficult criterion to meet though, when also wanting to make something voluminous and exceptionally comfortable. Because minimizing climate impact most often means minimizing the amount of material. So they decided they would make conscious and enlightened material choices and that's when they teamed up with Målbar.
The construction
This very special construction is put together by 3 sides of injection molded plastic pieces, a bottom piece and some upholstery. The shape of the sides and back allows for the pillows to be more flexible and thereby softer without using as much foam as you would otherwise have in a traditional armchair.
The designers have tried to make it clear that the chair can be disassembled by showing that the upholstery is squeezed in place between the sides and emphasizing the construction with the small plastic bolts.
The result
Eva and Anne succeeded in making a really voluminous and very comfortable chair that invites you to sit in it in various ways and which can even be flat packed to a third of its size. It is innovative in its shape, colors and material selection. The judges called it the Sports Cake of furniture, and they awarded it the winning design of the category. Congratulations on Bly Studio's third podium spot.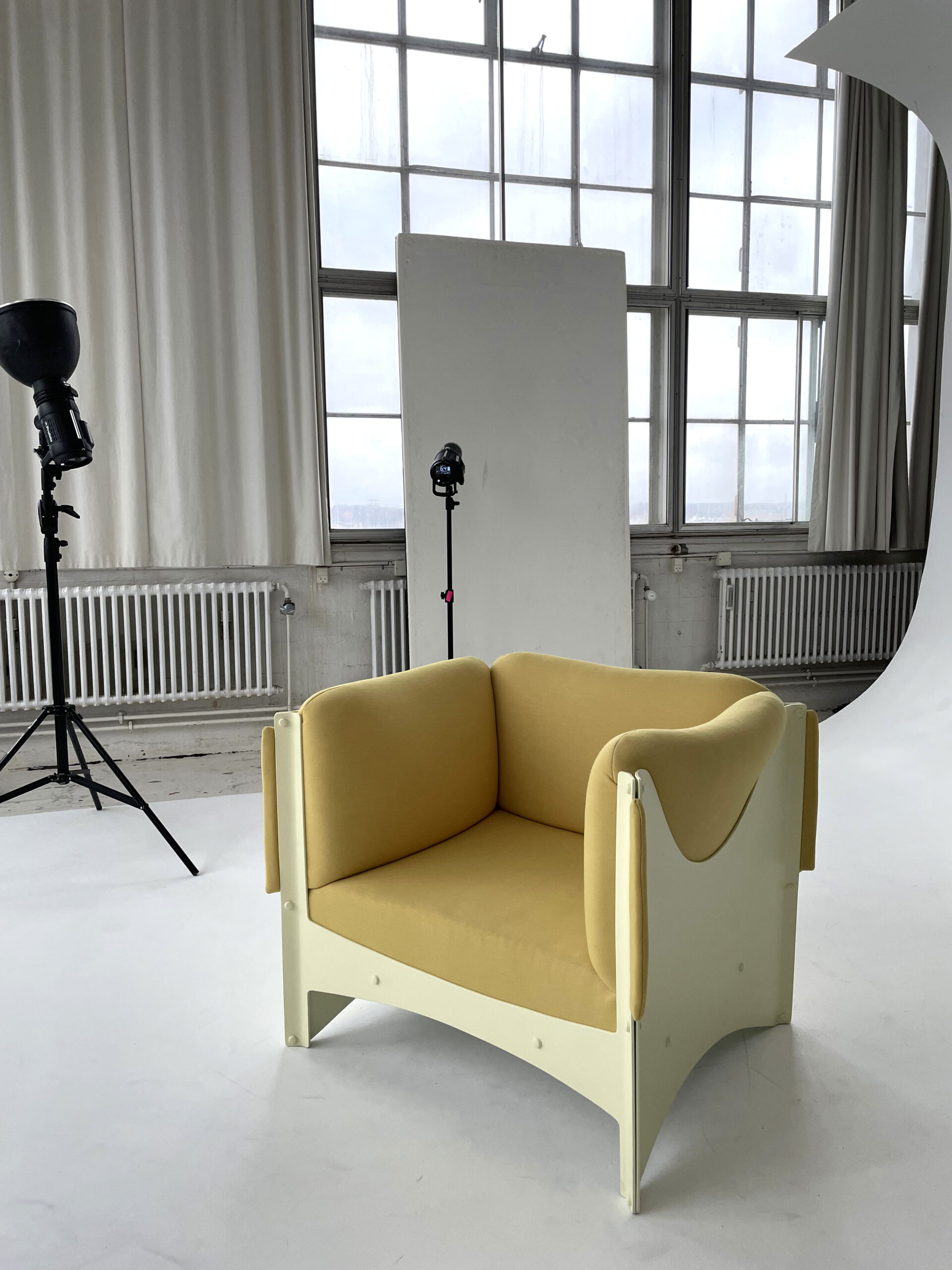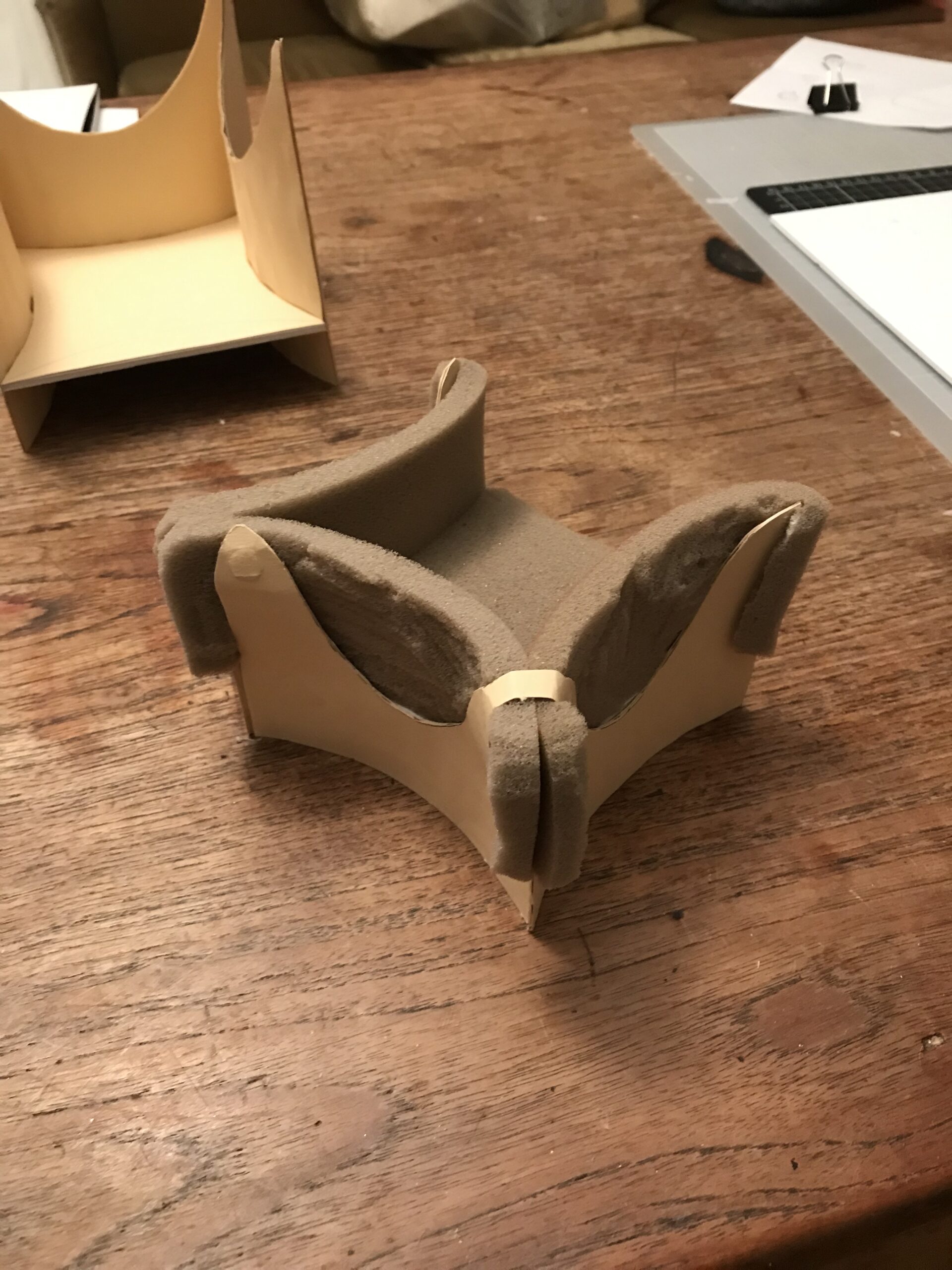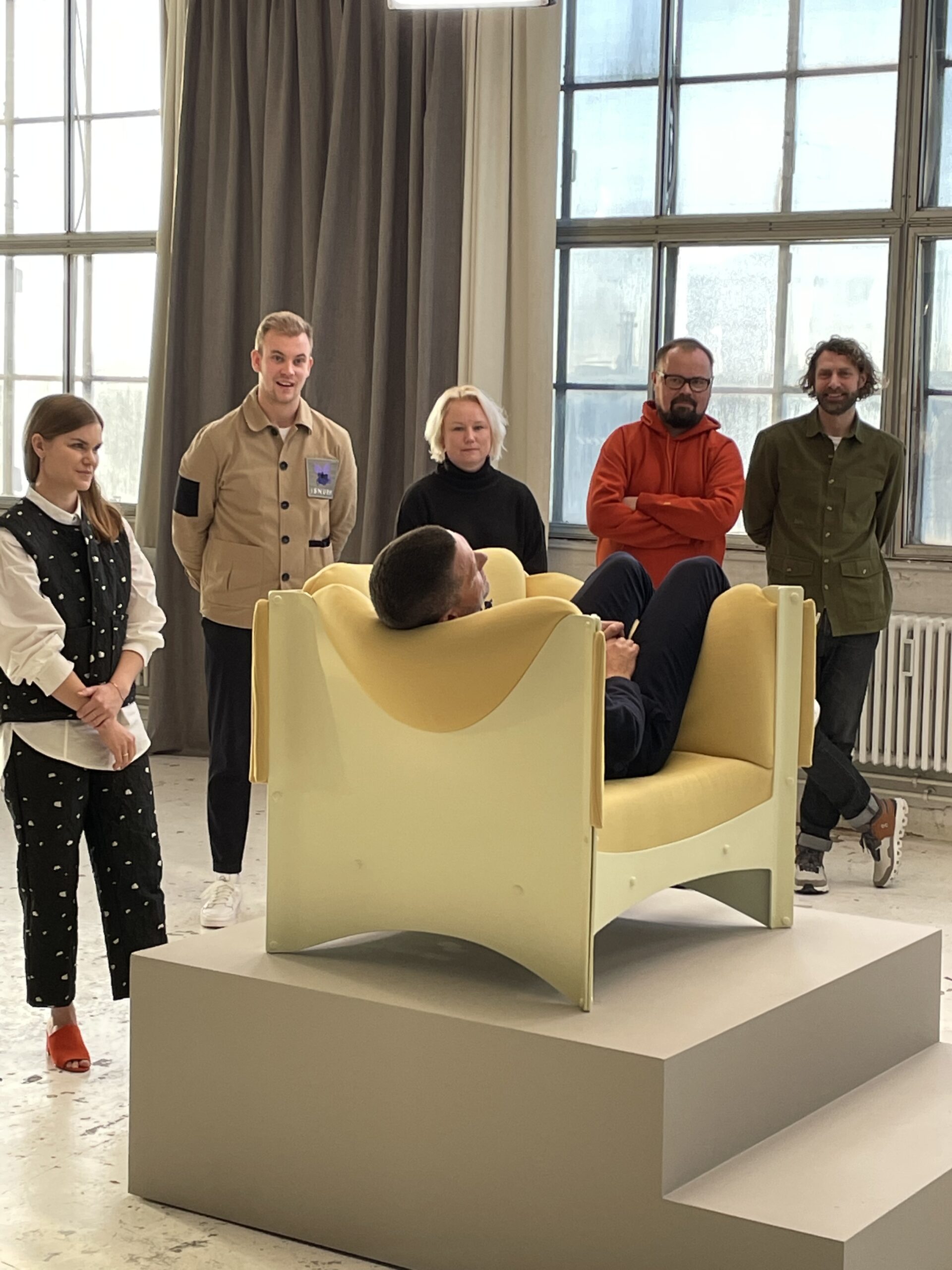 Climate footprint
Since they were not allowed to use wood for this design, the shell had to be made in other materials like metal or plastic. And now that Bly Studio had teamed up with Målbar, they had access to our broad knowledge about the climate impact of different materials and production processes. Therefore, they quickly became aware that plastic was the best option for this design since it in this case has a lower footprint than metal. As with their stool, they want to have the armchair produced in either recycled polypropylene or some kind of bioplastic.
We have made three calculations on the shell:
If it is produced in recycled PP, we assume that it would be necessary to mix it with a strengthening material such as glass fiber and it would then have an approximate impact of 60 kilos of CO2e
If it is produced in bio-polyethylene a strengthening material such as glass fiber would probably also be necessary and it would have a climate footprint of about the same.
If it is produced in plywood with a lacquered surface the footprint is estimated to be around 40 kilos of CO2e.
Eva and Anne chose the lesser emitting upholstery materials for their product. This means that they used natural latex foam and foam plates made from upcycled particle foam waste.
The upholstery reach a climate footprint of approximately 45 kilos of CO2e.
As for the textile, this time they really wanted to choose one without wool. However, they didn't find anything with the characteristics they wanted for their design. It was important to have a flexible fabric that would not lose its shape when pulled and pushed – it had to be able to follow the foam beyond the shell and get back into shape. So they did choose a variation with wool and a padding on the back side which can endure much movement.
The chosen textile has a footprint of about 110 kilos of CO2e which is almost 50% of the total emissions of the chair.
The future of the easy chair
Eva and Anne wish to find a textile without wool but with the same features as described above. And they might be in luck, because a textile manufacturer has told them that there are several new fabrics in the pipeline without wool. Also, they could look for a fabric made with recycled wool.
In the prototype, screws and bolts are in metal, but they would like to have them produced in the same plastic as the shell in order to minimize the material range.
They are also considering designing a sofa in a similar design, since it would make a fine collection. Finally, it is intended to be produced in many color variations, which can give it very diverse expressions.
Results
These graphics illustrate how the CO2e emissions are distributed between the included elements of the easy chair in the recycled PP version and the wooden version and what the impact corresponds to in everyday activities. We have estimated the total impact of the original design to 230 kilos of CO2e. In addition to interchanging plastic with wood, we have also changed the textile to one made from 100% recycled polyester. To obtain the foamy effect that the original textile have, we have added polyester wadding to the upholstery selection. This combination is estimated to have an impact of 130 kilos of CO2e.
Bly Studio is founded by two young female designers, Eva Fly and Anne Brandhøj. With a common background as furniture designers from The Royal Academy of Design in Copenhagen, Eva and Anne work with furniture design with a strong sense of functionality and they always strive to create memorable visual expressions. The studio focuses on designing high quality furniture for both the contract and retail market.