Denmark's next Classic 2022
Challenge no. 3
In the third episode of Denmark's next Classic, the designers are asked to create a piece of furniture for a specific and real place. They are going to design a chair for the Aveny-T theater's new national youth stage and multi room. The criteria are many for this category, since the chair should be both young it its expression but still folksy; it needs to be stackable and lightweight so that it is easy to move around; and preferably it should be possible to use indoors as well as outdoors. Finally, sustainability is an important element that the designers need to consider.
The idea
With so many criteria, Eva and Anne needed to prioritize. So they decided they wanted to focus on making a chair that would stack really well and at the same time be a light wooden chair. It still needed to be solid though because it has to be resistant to the rough handling by many people every day for a long time. They chose to make a wooden chair because they felt like the room needed to be added some warm elements in contrast to the otherwise quite rough concrete and steel architecture.
They also decided to make a detachable cushion for the chair to make it able to change expression and functionality. The idea is that it should be off when the setting is set for workshops, parties, cafés etc., and then they intended the cushion to come on when setting up for performances because it increases the sitting comfort and improves the acoustics in the room. Furthermore, it should add to the feeling of the traditional theater with fully upholstered furniture and heavy curtains.
The construction
The chair has a very distinctive frame that gives the chair both strength and makes it stack in a stable way. It also gives the chair a whole lot of character. Eva and Anne succeeded in creating a chair that stacks pretty tight and effective and with a high comfort.
The cushion is easy to put on and take off and is made in a way so it doesn't slip on the seat and so that it easy to figure out how to place it. They have sewn in weight material so that it hangs heavy down the back and front and they have made an anti-slip seating part by attaching natural rubber to the underside.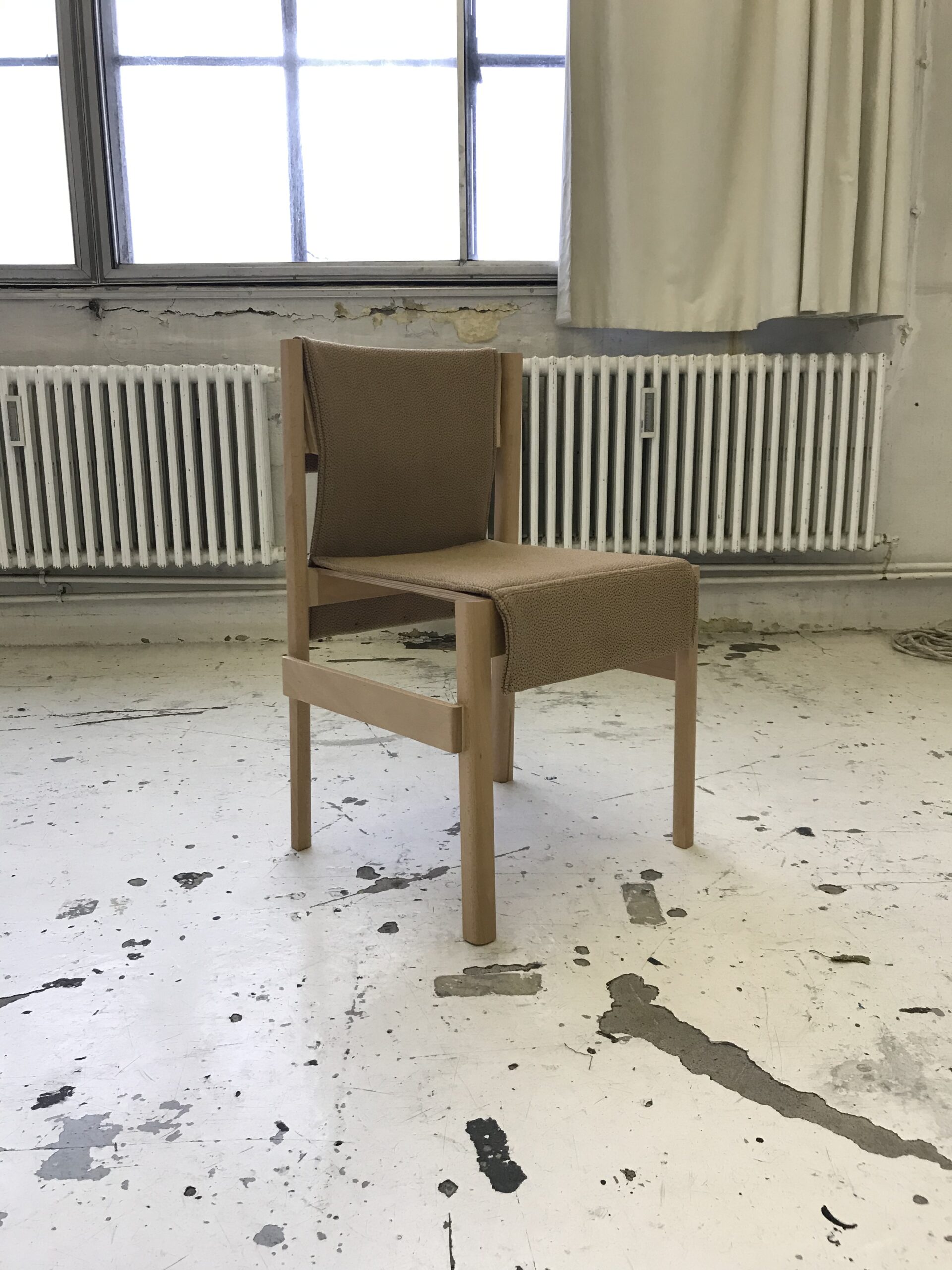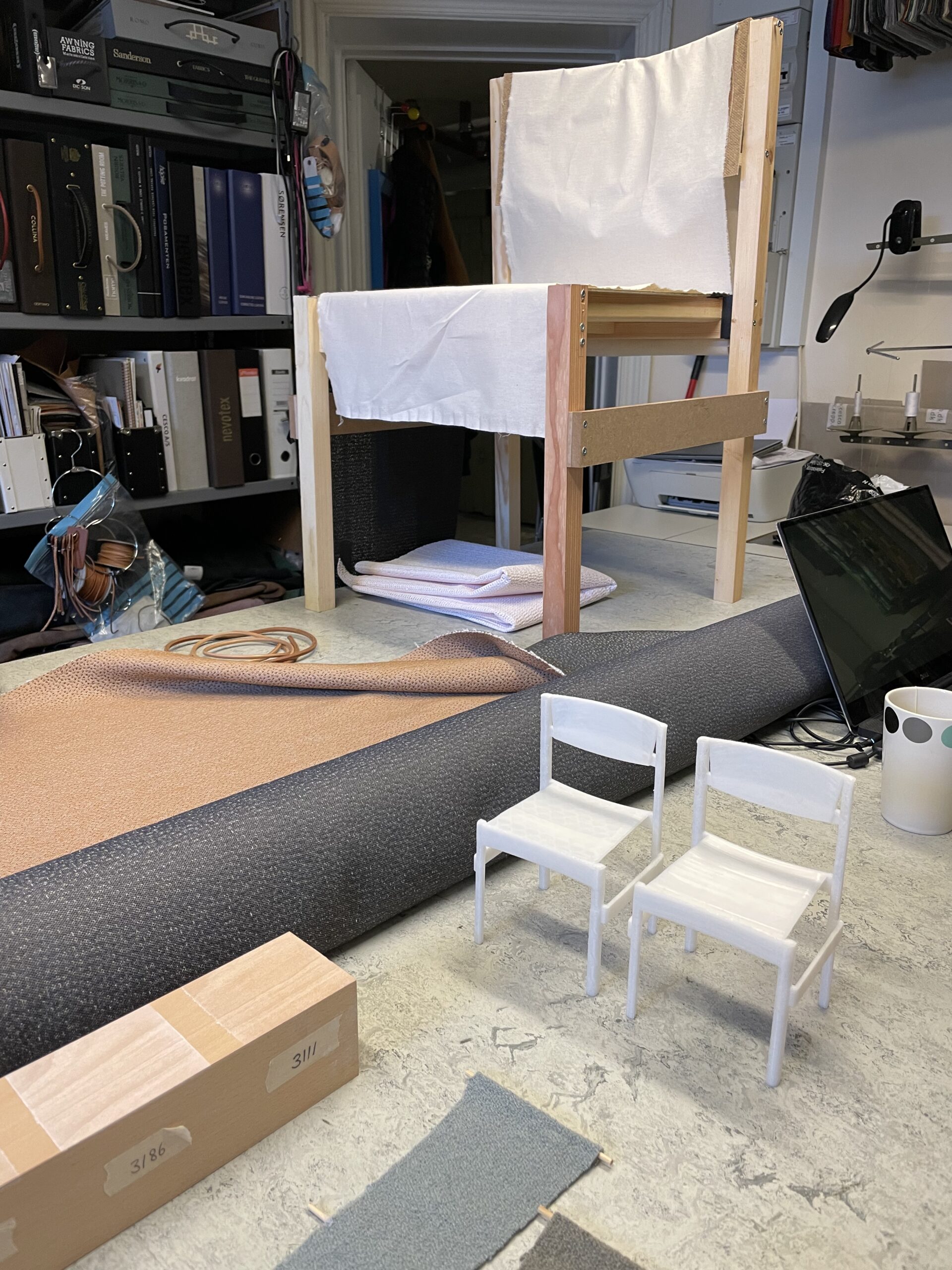 Climate footprint
The chair is made from Danish beech with details in ash. Beech and oak are usually quite old when logged which secures that the CO2 captured from the air is stored for a long time in the wood. Beech is less expensive than oak but has equal hardness and strength. However, oak is a much more popular type of wood than beech, so Bly Studio wanted to show that beech is just as functional and that its reddish tones can be as beautiful and suitable for furniture production as the light oak.
We have estimated that the chair including surface finish has a climate impact of about 14 kilos of CO2eq.
The cushion has a climate footprint of approximately 10 kilos of CO2eq.
Packaging and transport constitutes approximately 5 kilos of CO2eq of the products lifecycle emissions and the rest of the total impact of 37 kilos of CO2eq comes from production waste, as well as maintenance and cleaning of the finished product.
The future of the chair
Eva and Anne wish to have this chair put into production and as for their other designs, they are on the look for the right manufacturer. But first, the designers want to spend some more time working on the details of the chair as they feel it needs a little more love and attention. The textile that Bly Studio has chosen for this product contains quite a lot of wool, which they find very beautiful and suitable in its expression, but they will also look into lower impact materials, that might be more wear resistant and easier to maintain and clean.
Results
These two graphics illustrate how the CO2eq emissions are distributed between the included elements of the chair's life cycle and what the impact corresponds to in everyday activities.

Bly Studio is founded by two young female designers, Eva Fly and Anne Brandhøj. With a common background as furniture designers from The Royal Academy of Design in Copenhagen, Eva and Anne work with furniture design with a strong sense of functionality and they always strive to create memorable visual expressions. The studio focuses on designing high quality furniture for both the contract and retail market.